Mizzou Alternative Breaks program emphasizes service
Published:

Monday, May. 1, 2017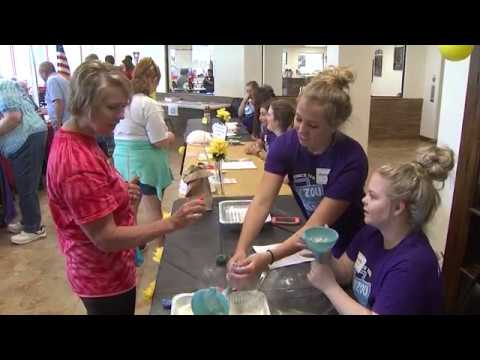 OWENSVILLE, Mo. – It's a beautiful Saturday morning in spring, perfect for outdoor fun and relaxation. But about a dozen University of Missouri students are devoting the weekend to service. They started the day working at a health fair at the Gasconade Manor nursing home. In the afternoon they'll go to the nearby Head Start center to do some cleaning, sweep the playground and set up a new picnic table. The next day they will help with a bingo game at an assisted-living facility in Hermann, Mo.
These volunteers are participants in Mizzou Alternative Breaks, a program in which groups of students perform service in communities in the U.S. and abroad. Since 2014, MAB has partnered with MU Extension to send students on weekend trips within Missouri. With a presence in each of the state's 114 counties, MU Extension is able to help volunteers identify needs and connect with service providers and community resources.
"Having a dozen university students from the School of Health Professions was the impetus to allow the Health Alliance for Gasconade County to do this health fair," said Brenda Humphrey, 4-H youth assistant for MU Extension in Gasconade County. "We haven't had one here for over 10 years, and it was something we've been really wanting to do but weren't sure we had the resources to accomplish."
Mizzou Alternative Breaks started in 1991 as a small student organization. Last year, MAB sent more than 1,800 participants on 158 trips, making it one of the largest university alternative breaks programs in the country. Initially focused on service opportunities during the week of spring break, MAB now has Thanksgiving, winter, spring and early summer trips in addition to the in-state weekend trips.
While the weekend trips represent a smaller time commitment, they are in some ways more challenging, says Abigail Krafft, a sophomore majoring in health sciences and a co-leader on the Gasconade County trip. Her MAB experiences include weeklong trips to Mississippi and Nicaragua. "Those trips are more planned out, while weekend leaders have to find the service sites themselves." They are also responsible for arranging lodging and attending to numerous other details.
"The students have been very independent and proactive," says Humphrey. "For the youth from Mizzou to come here and be engaged with our community is truly a blessing. It's exactly what we need more of."
Mizzou Alternative Breaks is guided by seven core principles, says senior Sidney Owens, the group's other site leader. The first and perhaps most important of these is "serve, don't help." According to the MAB statement of principles, "We don't go on these trips to help poor, sick and helpless people. We go to humbly serve them."
"We go by the philosophy of 'serve, don't help' because want people to realize that service is a mutually beneficial activity and no one should feel like they're better than another person," Owens says.
Krafft says the trips are "really good growing experiences. You learn a lot about yourself as a person and a lot about getting out of your comfort zone."
Her experiences with Mizzou Alternative Breaks have made her confident in her plans for after graduation. "I want to get my master's in public health policy, and I would like to join the Peace Corps after college to help pay for that." She saw MAB as a good way to see if a two-year commitment to international service was right for her. "For me, this was a really good opportunity to test my skills and challenge myself."
Owens says the rewards of service include the opportunity to visit unfamiliar places and meet new people. "I've been able to go to different communities I might not normally visit and discuss with residents their lifestyles and what interests them and how they got to where they are," she says. "I really like talking to people and learning their life stories. It's really fun when we go somewhere and people say, 'Wow, I'm so glad you could come.' It just puts a smile on your face."
For more information about Mizzou Alternative Breaks, visit breaks.missouri.edu.
Writer: Curt Wohleber